With millions of people trapped in their homes due to coronavirus isolation, video conferencing services like Skype and Zoom have become extremely popular this month.
But, while these apps were born in the boardroom to allow remote office staff to host virtual meetings, there is one that adds fun and games to the mix.
Read more:
This app is called Houseparty. Free and available for iOS, Android, and as a Google Chrome plugin, Houseparty lets you video chat with friends and play games together at the same time.
Houseparty launched in 2016, and while popular early on, it never really broke into the mainstream. But it has certainly shown potential, as evidenced by its acquisition by Epic Games (makers of Fortnite) in 2019.
The games offered by Houseparty include Heads Up (also known elsewhere as The Name Game), Trivia, and Quick Draw. Up to eight people can participate in a video chat at a time, and anyone can take control of the virtual room to start a new game or choose the next category of trivia.
Being stuck in my London apartment for at least three weeks, I set up Houseparty to try it out with friends. Here is how I got out.
Houseparty works best on a large screen tablet like the iPadEpic games
Useful tips and tricks for the house party
First of all, a word of advice. If you have a tablet, it's best to install Houseparty on it, as the larger screens make it easier to see everyone. Tablets like iPads are also easier to lean against something, so you don't have to hold your phone in an outstretched hand all evening.
One useful feature is how, if you have Houseparty installed on two devices (like an iPhone and an iPad), you can easily switch between them during a video chat. Just open Houseparty on another device and the app asks if you want to change. Tap yes and the video chat is transferred from one to the other with no connection loss.
You'll also want to sort out Houseparty's notification system before you go much further. A bit annoying, the default app will notify all of your friends every time you open it, with a notification saying you've "entered the house".
To turn this off you have to "ghost" all of your Houseparty friends, which isn't as drastic as it sounds. To do this, follow these instructions:
Open the Houseparty app
Slide the launch menu down to close it
Tap the face icon in the top left corner
Tap Manage notifications
Press toggle switches for both options
Now you won't be hassled when someone opens the app (and your friends won't be notified when you open it either), but you'll still get notifications when friends want you to join their group.
Also frustrating is the way the app requests access to your contact list to help you find friends to play with. You can decline, but if you say yes, it will start warning you whenever someone in your phone book installs Houseparty. Yes, ex-partners included.
A final interview note is that the video of yourself is coming straight from your device's camera, so it's much sharper than everyone else's feeds, which of course comes from the web.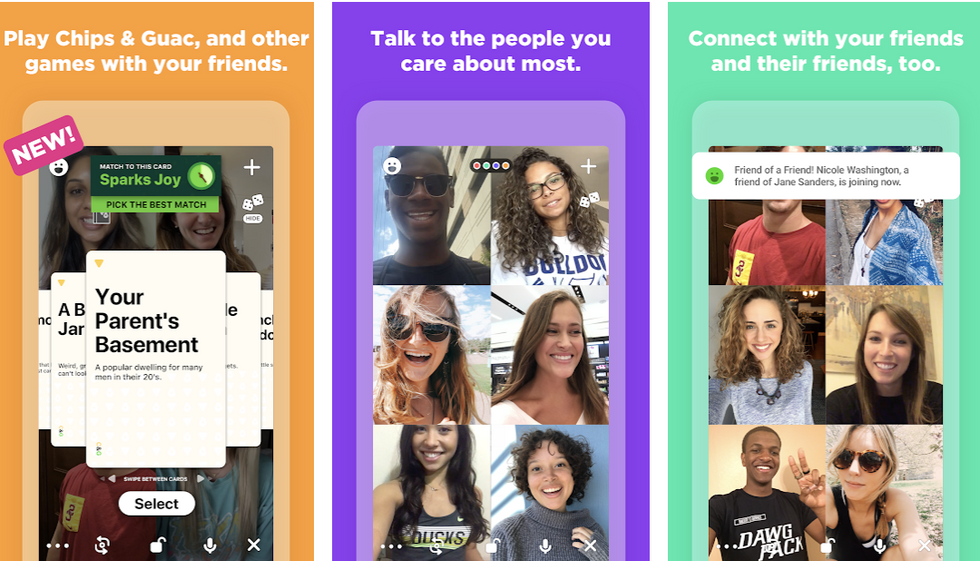 Houseparty smartphone appEpic games
How to play on the Houseparty app
Once you've worked your way around these minor annoyances, it's time to throw your first virtual home party. To get started, tap the + icon in the top right corner, then tap the friends you want to add to the party. As they join, the app starts to look like all other video conferencing platforms.
You can use it exactly for that, if you want, and it works fine. My friends and I threw a party for about four hours without any major issues. Audio and video have issues at times, but given the current global situation and the fact that it was probably the night in its busiest time, the app did a decent job of keeping everyone connected. I used Wi-Fi, but maybe I'll try to switch to my phone's 4G connection next time (but please only do that if you also have an unlimited data plan).
Let's move on to games, and it's a bit of a mixed bag. Trivia is quite good, with a wide range of categories and questions to solve, a simple scoring system, and fast-paced gameplay that makes it all fun.
Quick Draw also works well, where one person is given the name of something to draw and everyone has to guess what it is. Naturally, the skills of the player will depend on your appreciation of it …
The Chips and Guac word-matching game is arguably the weakest of the bunch. The game works much like Cards Against Humanity, where players are all presented with the same word or phrase and then asked to match it with the one in their hand of cards that they think is the funniest. One player is designated as the judge for each round, and the winner is the one who, according to the judge, gave the best answer.
The point is, Cards Against Humanity works because it's an adult game, with answers designed to make you laugh, blush, or be completely shocked at your friends' sense of humor. Chips and Guac fails here because its child-friendly responses meet Houseparty's 12+ age rating. That said, if you have kids it can still be fun to play.
All in all, Houseparty is a fun app that brings friends and family together virtually – something that we can all benefit from during this difficult time. Also, I found the games to be more of a good icebreaker for the evening, rather than the main event; after a few rounds of Trivia and Quick Draw (and a few drinks, admittedly), we closed the in-game menu and chatted for the next two hours, as we do in person.
One important thing to point out, especially for anyone who wants more functionality and video stability: Houseparty was last updated eight months ago, so has yet to be updated to cope with it. to massive additional demand placed on its servers. Hopefully, while its developers are probably also working from home, we'll see some form of update soon to help refresh the app a bit and make performance a bit smoother.